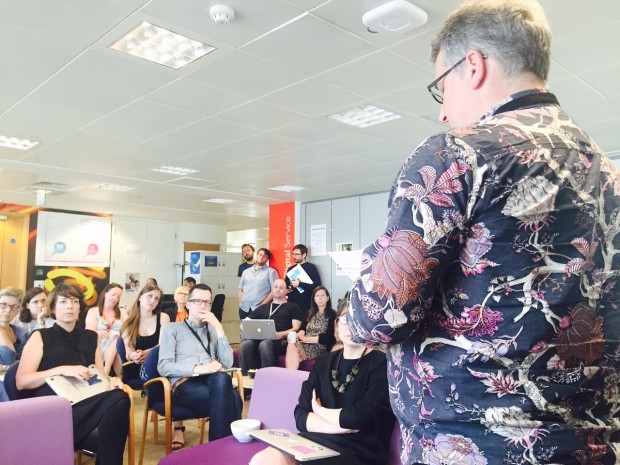 Once a month at GDS we hold a 'Real User Story Slam'. At the story slam, people from across GDS gather to hear stories about what we've learned in user research.
5 short stories/3 minutes each
We get some snacks and organise 5 short stories of around 3 minutes each. We focus on storytelling and try to 'bring to life' the people we've met and the experiences they've shared with us.
It's a really simple way to help more people get exposure hours, and to help us all remember what life is like for our users.
There are no slides and no videos, though sometimes we show a photograph of the person we're telling a story about.
It's not all good news
It's a bit of a strange session: stories about people who interact with government are often a bit depressing. Do you clap after you've heard a story about someone's difficult life?
We've learned to end the session with a video from usability testing that shows people responding positively to the work we're doing.
If we care about user needs...
People seem to think the story slams are useful. One audience member emailed us to say it was the most relevant thing she'd seen in months.
If we care about user needs, we need to hear stories about our users. You should try doing a Real User Story Slam where you are too.
We're happy to share any pointers. Also, let us know how it's working for you.
Keep in touch. Sign up to email updates from this blog. Follow Leisa on Twitter