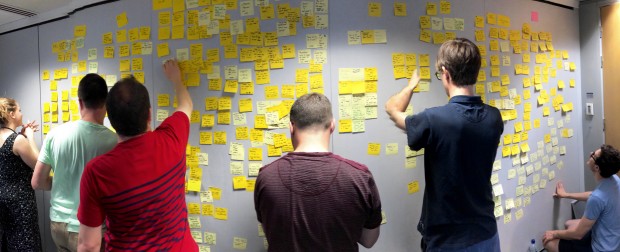 If you're passionate about helping organisations see the world from the end users' point of view, we'd love to hear from you.
As a GDS user researcher, you'll need a diverse range of skills.
You'll do contextual research to understand how citizens experience government at challenging times in their lives. Using analytics and usability testing, you'll work with interaction designers and front-end developers to fine tune design patterns for the widest possible audience. You could find yourself doing ethnographic research with civil servants to understand how technology can best support them in their daily work.
The user researcher community in GDS, and across the UK government, includes some of the most experienced and passionate people in the field.
You'll work with some amazing designers, developers and product people, and you'll work on things that really make a difference to people's lives. We also encourage continuous learning by sharing experiences within the team and by reaching out to experts in the UK and abroad.
Where to apply
Updated: these vacancies have now closed, but there are other opportunities you could consider:
Other opportunities
Our colleagues in government have some really interesting opportunities for researchers too.
NEW: DWP, Leeds are looking for Senior User Researchers and User Researchers (closing 8 December)
UK Parliament are looking for a contract user researcher
We're looking for a contractor to get out into the field (literally!) to do user research with farmers
Or perhaps you fancy helping us make the Service Design Manual more useful to all the people in government and beyond who use it to make better digital services.
The Department of Energy and Climate Change needs a new Head of Consumer & Behavioural Research on energy reduction. Closing Date : 1 Dec 2014 (this role is open to Civil Servants only)
The Home Office also is looking for talented contract user researchers to help us deliver services that really matter to millions of users around the world.
If you have any questions about the roles or the application process, email Leisa Reichelt, Head of User Research or apply direct via the link in the listing.
No agencies please.
Keep in touch. Sign up to email updates from this blog. Follow Leisa on Twitter.