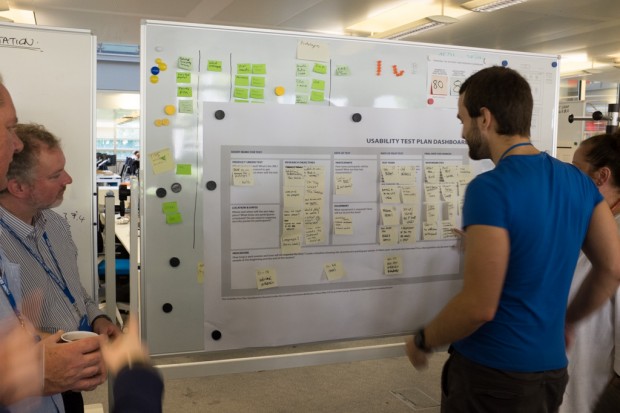 On a recent project in HMRC's Digital Delivery Centre in Newcastle, we wanted to encourage everyone on the design team to get involved in planning the user research. Rather than have a single person create a discussion guide for an upcoming usability test, we invited the whole team to take part in planning and preparing for the test.
Why team work is important
Planning user research sessions usually happens inside the head of one person: there may be a few conversations with people on the design team, but the bulk of the planning falls to the user researcher. The risk with this approach is that it encourages the design team to delegate all responsibility for understanding user needs to a single individual, the researcher.
As Leisa Reichelt said in her post, What user researchers do when they're not researching:
Whilst it is our job to understand end users and how they interact with our service, we think our most important job is this: to make sure that everyone in our team understands end users with the same empathy, accuracy and depth as we do.
We got our team involved in user research from the very start.
A 'usability test plan dashboard'
We did this using a 'usability test plan dashboard', which we printed on a large format printer.
The dashboard includes prompts for common tasks we need to complete to run an effective usability test, like: "Who's responsible for getting the consent forms?", "What tasks will we ask participants to complete" and "How will we share the results?".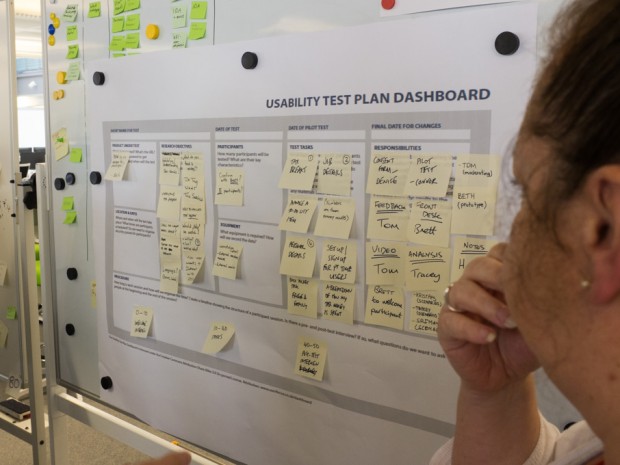 What worked especially well
There were two aspects of this approach that worked especially well.
1. Everyone on the team got involved in designing the test: developers, business analysts, user researchers, designers, the product manager and the scrum master. The whole team took on the responsibility of creating task scenarios, agreeing the profiles of test participants and defining the goals of the usability test.
2. The dashboard acted as an 'information radiator': rather than having a standard usability test plan buried in the project's filing system, the team was continually exposed to the plan in their work area. This allowed us to make changes to the test plan in the days running up to the test, and ensured that the usability test was seen as an important driver for the project.
Get a copy of the dashboard
If you'd like a copy of the dashboard to use on your own projects, you can view and download a version here (PDF).
Keep in touch. Sign up to email updates from this blog. Follow David on Twitter.