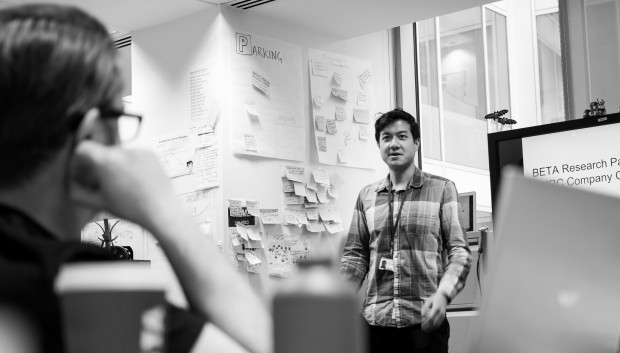 A lot of teams aren't used to having a user researcher embedded full time. When we suggest that they should, we're often asked:
But what will the researcher do when they're not conducting research?
We've discovered that our user researchers are only actually researching about 30% of their time.
Whilst it is our job to understand end users and how they interact with our service, we think our most important job is this: to make sure that everyone in our team understands end users with the same empathy, accuracy and depth as we do.
Here are some of the things that embedded user researchers do when they're not researching:
We work with the team to improve the service
Analyse research with the team, understand the key insights and work out what actions to take as a result.
Work with designers, content designers and developers to make prototypes for testing something new. We sit with the designer and developer so we can chip in and answer questions about what's being made and why.
Spend time with the business analyst or product manager to prioritise features and stories. We also work through questions thrown up, as a result of research, around user stories and acceptance criteria.
We communicate what we know
Give research 'playbacks' and share key research insights with the project team and stakeholders.
Compile video clips from the research so those who couldn't attend can see real users for themselves.
Write blog posts on our research findings.
Prepare and deliver presentations, demos and show-and-tells.
Make things to post on walls to keep people thinking about our users, their needs and the challenges we need to overcome to make a great service for them.
We prepare for research
Organise upcoming research participants by either writing screeners for agencies or contacting potential participants directly.
Work with the design and development teams to work out future user research needs and to create research hypotheses.
We look at site analytics to...
See how, and if, we can use analytics to quantify findings we've observed qualitatively.
Spot patterns in the data and identify future research needs.
These activities are essential in making sure that the time and effort put into user research isn't wasted. Research is only valuable if your project team understands it and acts on it. These activities help make that happen.
At least 3 days a week
We recommend that user researchers are embedded in a team at least 3 days a week. In fact, most researchers find that just 3 days a week leaves them stretched for time in getting everything done.
It's a different approach to research than most are used to, but in agile projects, we're finding it's the only way that works.
Keep in touch. Sign up to email updates from this blog. Follow Leisa on Twitter.