The Common Technology Services (CTS) team at GDS works to help government departments use cheaper cloud-based solutions and shared technology components. We're delivering projects like GovWifi - a single wifi login that can be used across government.
As user researchers on CTS, we help our team understand the day-to-day lives of our end users - civil servants working across government.
To pull together what we've learned about how civil servants work, we've developed a set of cross-government user profiles. Here's how we created them and how they can help you.
Getting to the profiles
These profiles were created by interviewing civil servant across government and by working with departments to incorporate findings from their own research. We also reviewed existing user profiles, such as these ones developed at the Home Office.
Combining our interviews and the work done by other departments gave us a good understanding of civil servants' common needs.
We also identified the key attributes and behaviours that differ depending on the role someone is in. These include the amount of cross-government interaction, working in different locations, frequency of urgent requests from others, type of working hours, and the need for bespoke software.
This allowed us to create 6 profiles that each describe a different government job role, how they work, and their needs from workplace services.
We shared this new set of profiles with other teams working in department transformation, gathered feedback on how they used them, and iterated and refined them.
The 6 profiles we have now are:
Behind the scenes
these roles are the backbone of government services and include caseworkers and administrative assistants
Front of house
frequently interact with members of public and need to the record information - common roles include Interviewing officers and call centre staff
Cross-team collaborator
work across government departments and with external parties, need to collaborate with the people they meet and be online in a number of locations
Technical
manage and develop digital and technical services, and in some cases produce databases or perform complex data analysis
In the field
move extensively as part of their jobs and may not have easy access to an office - typical roles include inspectors, incident managers, immigration officers, and border officials
Always on
collaborate and communicate with a wide range of people across government and outside government - need to be contactable at all times, and respond to requests quickly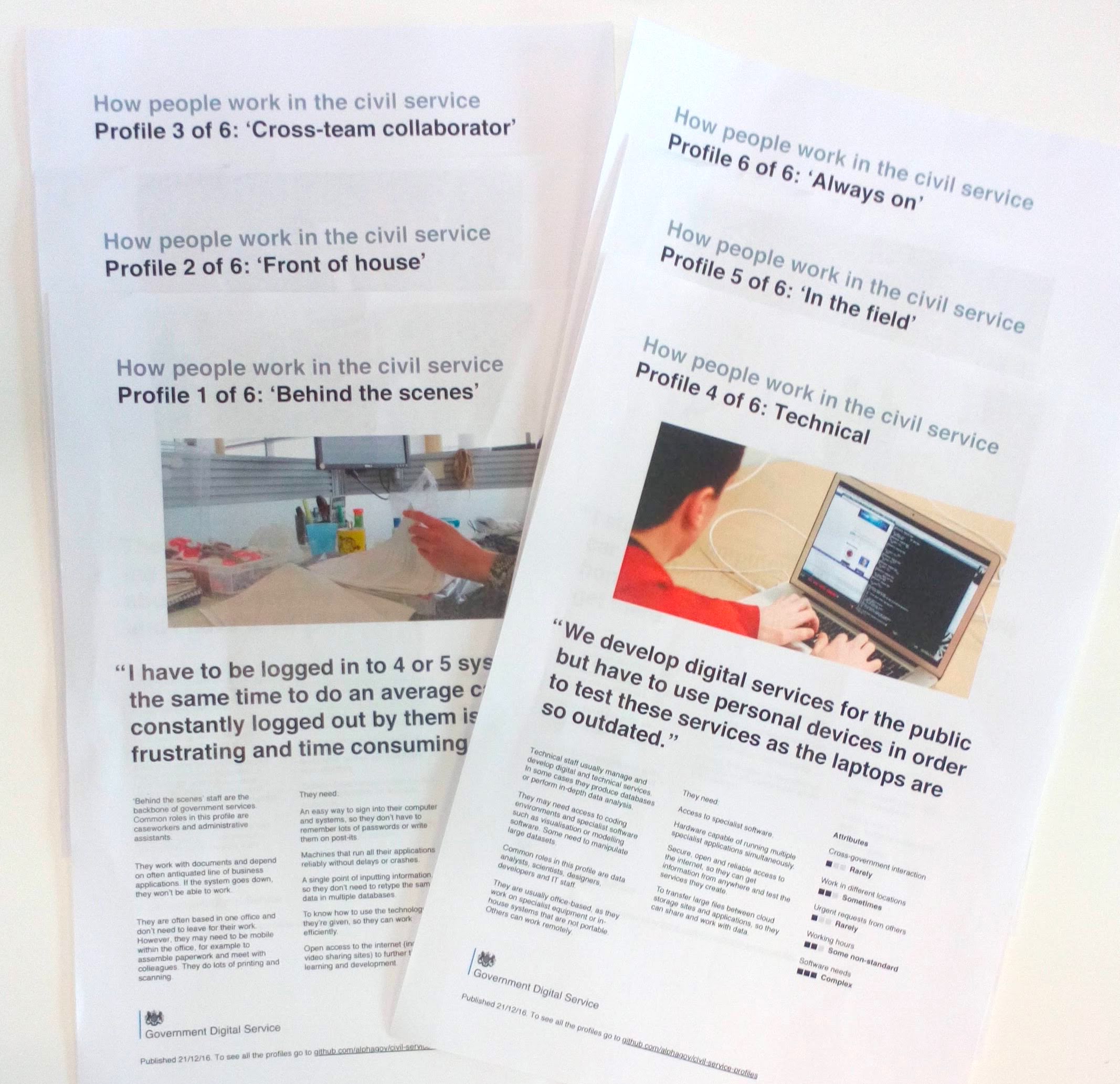 The profiles are available in Github.
When and how the profiles can help
So far, the cross-government profiles have been used by teams building cross-government services, working on cross-government training, planning Smarter Working, and making estates changes.
In our team, we've found the profiles are a valuable reference point for people designing, delivering or choosing something for a department, or for all of government. They also help us include all the people we need to in our user research.
When we're working across departments the profiles give us a great starting point for a common understanding of internal users.
Combining the profiles with user research
We've found that the profiles are representative of staff in all departments we have worked with - but we know there will always be local differences.
So we recommend that departments use the profiles as a head-start in understanding their staff, then do their own user research to identify specific needs and pain points.
Help us develop the profiles
If you would like to join a cross government community of people who are developing and using the profiles for their projects, we'd love to hear from you.
Send an email titled "Join the civil service profiles community" to contact.cts@digital.cabinet-office.gov.uk.
Find out more about GDS
If you want to find out more about the work of the Government Digital Service, we're speaking and running workshops at Civil Service Live around the country in June and July and the Public Sector Show in London on 26 June.
Come along to hear from us and talk to us.