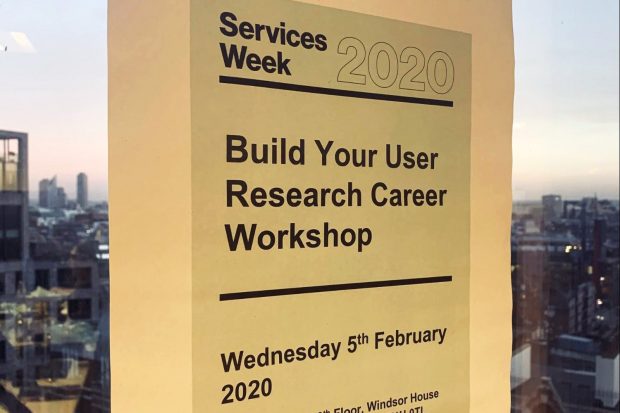 The User Research community is currently exploring how we support researchers in their career development. Cross-government working groups are being set up to look at career progression, and training and development. The groups aim to identify the gaps and opportunities in these areas to make sure we provide the professional support that user researchers need as they navigate their career.
To support this enquiry, the user-centred design team at the Department for Transport hosted a 'Build Your User Research Career Workshop' as part of GDS Services Week 2020. Our inspiration came from adapting the Research Operations (Research Ops) 'workshop in a box' resource, bringing together user researchers from all backgrounds to self-reflect and network.
The workshop attracted people from a diverse range of experience levels and backgrounds, ranging from local government to the Parliamentary Digital Service, and from those aiming to enter the user research profession to those at senior managerial level. It was fantastic to receive such a strong interest from the user research community, with a completely sold-out event and an extensive waitlist for future workshops.
The content of the day
The team wanted to enable user researchers to reflect on their craft skills, and strategically identify areas for self-development, in order to achieve their career goals. We wanted user researchers to leave the workshop with a stronger sense of identity, strategic direction for the future, and with actions on how to enhance their effectiveness.   With this in mind, the 2.5 hour workshop comprised the following 5 key sections.
A user researcher's coat of arms
To kick off the workshop, participants created their professional 'coat of arms', filling in a shield template with a SWOT (Strengths, Weaknesses, Opportunities, Threats) analysis of their experiences of being a user researcher in their organisation.
This exercise encouraged individuals to reflect on their own organisations, identifying opportunities and threats to expanding the impact of user research across their department.
Following the self-reflection exercise, participants organised into groups according to their experience level. They discussed the barriers to becoming more experienced and advice they would give to more junior colleagues, then presented back to the group.
Each group visualised this through producing their own collective coat of arms: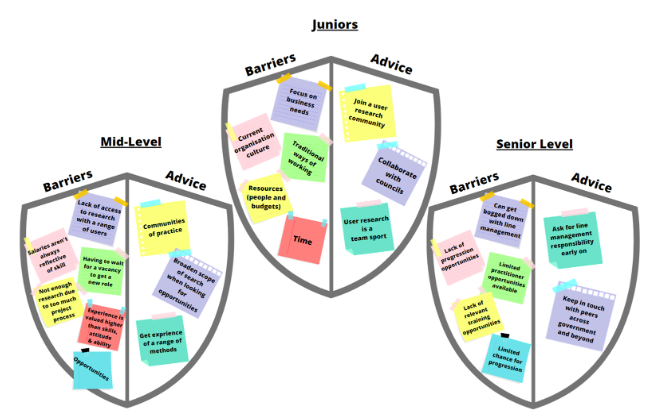 An interesting debate began around how capability is defined in user research more broadly. Using 'number of years in the profession' as an indicator could be off-putting, and not necessarily a reflection of skill levels. This was identified as a barrier to those applying for more senior positions, and participants suggested that a skills-based model to recruitment could be more effective. 
At the senior level, user researchers voiced concerns around managerial responsibilities significantly reducing or removing their ability to practice their technical craft. This initiated an insightful debate around the career ceiling that ostensibly exists in the user research profession.
Seeing the bigger picture
After the icebreaker activity, participants created their own organisational ecosystem model.
In pairs, they considered the following questions:
Where does your team fit into your organisation? How does that arrangement affect the work that you take on?

Which other team has the strongest connection to users? Why? What happens to their knowledge & experience?

From your perspective, who has the most impact on your work?
This facilitated an in-depth group discussion on how their work relates to other teams in their departments, and the impact user research has on these projects. This bigger-picture reflection enabled participants to identify how and where they could increase the impact of their work in their organisation. 
Project journey mapping
Following this, in true user research style, the participants created a project journey map for a recent end-to-end project they completed. The group produced a graph, tracking their mood throughout key milestones of the project, highlighting their personal peak and trough throughout the process.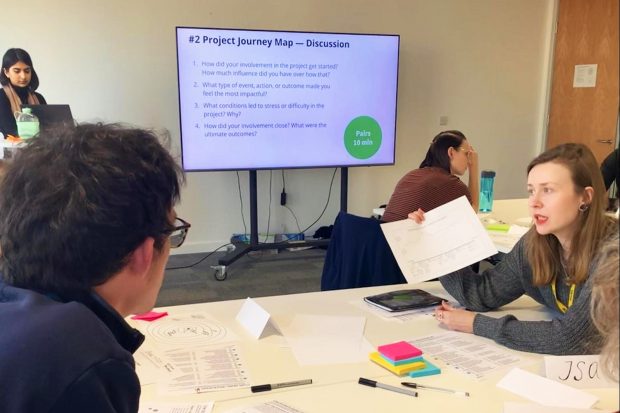 Craft skills and human skills 
After a short break, we started the second 'skills-based' part of the workshop. According to feedback, participants found this section the most useful.
We used the worksheets created by Research Ops to facilitate this exercise. This allowed user researchers to reflect on their existing technical skillset (craft skills) and how they work with other people (human skills).
By self-reflecting the group left with practical, actionable strategies on where they need to develop in order to progress professionally.
Career mapping
For the final activity, the group produced individual visual career maps, letting them reflect on their journey from the start of their careers to where they are today. 
This facilitated an open, honest and inclusive group discussion, with people sharing emotive anecdotes around the highs and lows of being a researcher.
Reflecting on the workshop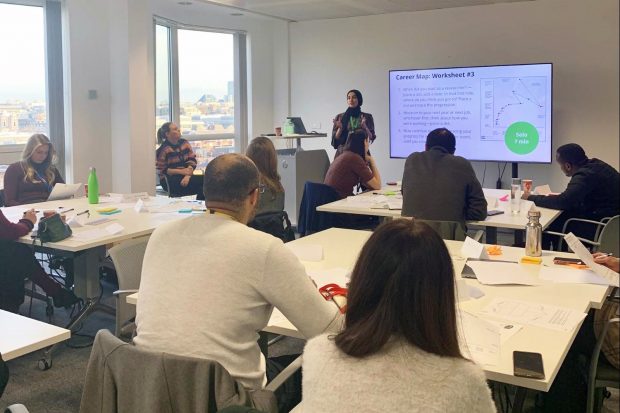 The group felt that the action-packed session had been a great opportunity to reflect on their research career and how they could manage it more effectively. They also provided some useful feedback for us to improve our next workshop session, such as focusing on individual skills, and human and craft skills and evaluation more.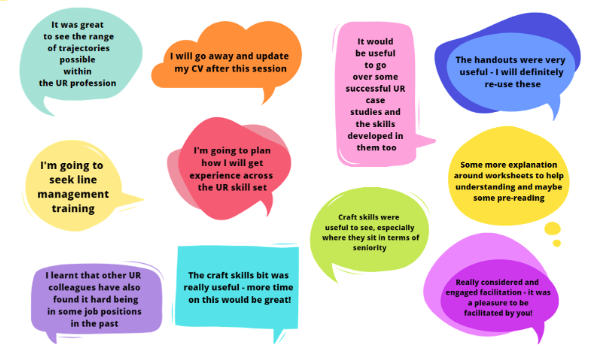 Most importantly, this workshop brought user researchers from all career stages, ages and backgrounds together in one room. It connected people across government who wouldn't always have the opportunity for direct contact, facilitating meaningful and actionable conversations to help professionalise and develop the user research profession across government.
You can try this workshop in your organisation to enable a more cohesive voice for user researchers across departments and a strengthened identity within the DDaT profession. You can find the Research Ops resources here. We will announce the second workshop we're running at GDS soon through the User Research Community email group as well - keep an eye out!