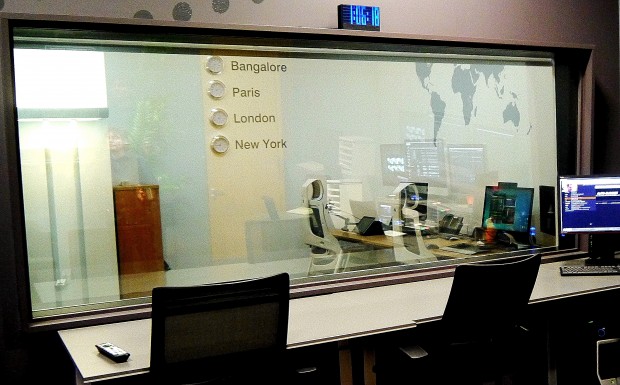 One-way glass is transparent on one side but opaque on the other. It's often used in research labs and allows observers to watch participants without being seen.
There's a lot to think about when deciding on one-way glass. We've come across several labs who've had to rethink and replace their glass until they've got it right.
Is it worth the effort?
Though not all, we've met quite a few people who've overseen the installation of one-way glass and had this sentiment:
We spend most of our time watching the TV screens, which give us consistent detail, clarity and control. The glass, for all its glamour, doesn't always fulfil its worth.
We're not having one-way glass
Because our rooms are separated by an IT cupboard, we're not having one-way glass. We were initially disappointed but not any more, we're told it can be a right pain.
Even so, if one day we do stumble on 2 adjacent rooms with space for our own shiny slab, we'll have some excellent advice to go by.
Top tips from people who know
Wall paint
If your lab has one-way glass, you'll want to paint your walls a very dark colour. Something like gunmetal grey would do. Very gothic.
The reason is this: if your viewing room is too bright, test participants may catch glimpses of you and your team moving around and watching them.
Lighting needs to be of the Goldilocks kind - just right
It's important to keep lighting in the room dim. You'll need to measure the maximum level of light available to you without inducing glass transparency and glare. An electronic dimmer switch, set to fade up to a tried-and-tested maximum, is useful.
It's a good idea to provide table-top LED down lighters so that observers can discretely light their devices and notebooks. It's also worthwhile turning device screens down as the combined glare of several screens can push your room light up above bounds.
Placement of your TV panel is important. It should be positioned in a way that doesn't cast excess light in the direction of your glass.
Quiet please
Soundproofing needs consideration too. Your observers need to be relatively quiet. I've seen labs provide headphones so that observers can turn audio volume up without sound leaking into the testing suite.
$$$
Not to be overly negative but all this doesn't come cheap.
Then there's the privilege of keeping it sparkling clean too.
Thanks to Helen Johnstone at Thomson Reuters, Craig Spencer (Tesco's, ex-Betfair and -the Guardian) and Danny Bandhu of DMS.
Keep in touch. Sign up to email updates from this blog. Follow Kate on Twitter.