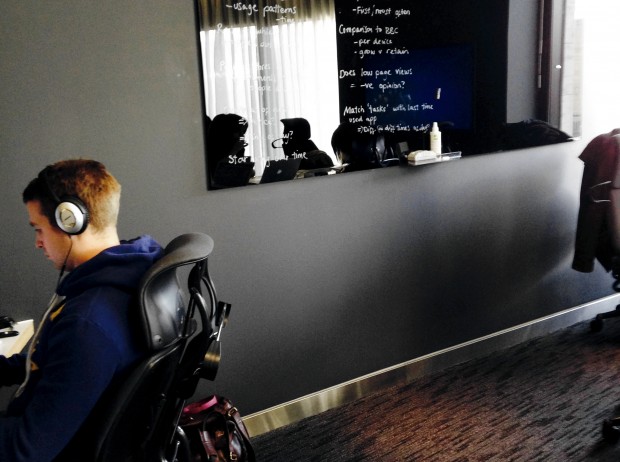 The smartest labs we've seen have their viewing room walls painted dark grey. In choosing wall paints for our own viewing room, we were inspired to do some research. Here's what we found.
One-way glass
If your lab has one-way glass, dark walls are helpful in eliminating glare. The less glare your viewing room emits, whether from screens or white walls, the more efficient your one-way glass will be.
Helping increase image clarity and ease on the eye
We don't have one-way glass, still, as a space where researchers will spend hours watching details on a very large screen - 2x2 Samsung 46" LED video wall, to be precise - we wanted to make our viewing room as eye-friendly as possible.
We looked to film and home theatre boffins for help
In essence the viewing room is a cinema-style space not dissimilar, though much less rigorous in its needs, to an A/V production suite.
Cinematographer, Ryan E. Walters, puts it best in his article 'A Complete Guide to Setting Up a Home Color Grading Suite'.
The article goes into far too much detail for our needs but it did give us the 'knowledge nugget' we needed.
To save the skimmers of you the reading effort, here's the conclusion: for best viewing conditions, paint your walls 18% neutral grey.
A little more about it (in American)
The color of your walls is going to depend on your viewing system- if you are using a projector, then you are going to want to keep your walls black. If you are using a Plasma or an LCD, then you are going to need to use 18% Neutral Gray. Now you may be thinking to yourself, I can just go down to Home Depot (or somewhere similar) and have them mix up some gray paint for me. Unfortunately, this isn't going to work. The problem with Home Depot paint all comes down to quality control. No matter how hard they try they will not be able to get you the correct 18% gray color. Batch to batch the colors can shift, and even if you do get a large enough batch it will have a strong color cast to it. I have seen 18% gray paint made by Home Depot by taking a sample of the real stuff and it failed – it had a blue cast to it. So unless you want your footage to have an extra amount of blue in the grade, just get the real stuff. eCinema Systems is where I bought my paint from.
Where we got our (almost) 18% neutral paint from
Because we're not a production suite, we didn't see the need to get absolute 18% neutral paint, which is more expensive and difficult to source than regular paint.
Our run-of-the-mill paint suppliers requested a BS number, or British Standard number, for 18% neutral grey.
We couldn't find an exact 18% neutral grey but we came close enough with what I think is 16%.
The email we sent to our paint suppliers:
The closest I've come is BS 00 A 11. As a reference point, the Dulux trade paint code 30BB 16/031 is 16% neutral grey, pretty close to what we want.

It must be matt please. This is extremely important. Thanks.
The paint must be matt or all is lost. Again, to avoid unnecessary glare.
Keep in touch. Sign up to email updates from this blog. Follow Kate on Twitter.