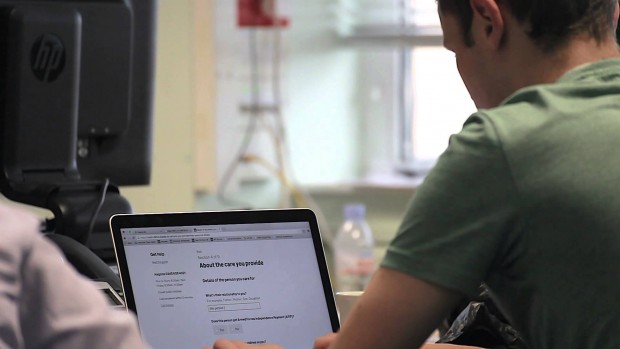 On the Carer's Allowance exemplar, we wanted to make sure that our service worked for as many people as possible, so we recruited a wide range of users.
We also wanted to make sure that we understood the assisted digital needs of those who can't use the digital service, so we recruited less digitally confident and skilled participants.
In this post I'll share what we learned about writing a recruitment brief for participants with low and no digital skills, and what worked and what didn't.
Recruitment questions: we tried many ways of asking them
We write our own recruitment briefs, and we work with our lab in Manchester to recruit. We've tried many ways of asking questions to ensure we recruit the right people.
We've found that asking questions such as...
How many hours do you spend on the internet per week?
If you needed to claim a benefit, how would you prefer to do it:

Online
Paper form
Telephone
Face to face

How would you rate your computer skills?
...simply weren't getting us the right people.
We've spent time with participants who prefer paper forms and use the internet a couple of hours a week, but completed an online Carer's Allowance claim with little difficulty.
The problem seems to be this: people generally rate themselves as lower - often significantly lower - in digital literacy than they actually are.
We needed to recruit people lower on the scale
We used the digital inclusion scale to keep track of the digital literacy of our participants. From this, we saw that we needed to recruit people lower on the scale.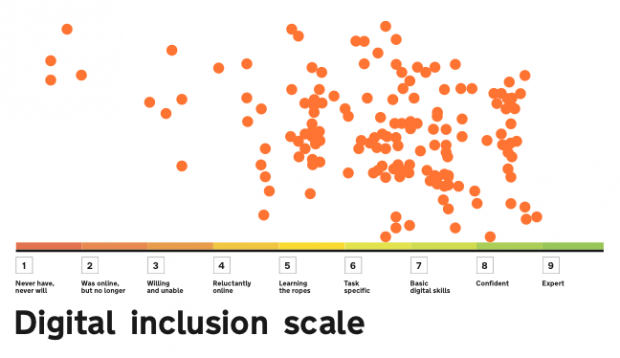 We looked to Go ON UK's definition of 'Basic Digital Skills' to help us phrase our recruitment briefs better.
Note: Go ON UK have recently redesigned their advice. This was what we found and used at the time. We still think it's useful.
Skills
Communicate
Find things
Share personal information
Activity
Send and receive emails
Use search engine / Browse the internet
Fill out an online form:

Job application
Make a booking or purchase
Access government services
Register on social website

Underpinned by: Keeping safe online
Identify and delete spam
Identify which websites to trust
Evaluate which websites to trust / Set privacy settings
We asked different questions
As a result of our research, we decided to try the following questions, and they worked much better.
Please score yourself on how comfortable/able you are doing the following tasks online, where the scoring is:
0 = Can't do/don't know what it is
1 = Would need help to do
2 = Could do with difficulty
3 = Could do
4 = Expert (could teach others)
| | 1 | 2 | 3 | 4 |
| --- | --- | --- | --- | --- |
| Send an email | | | | |
| Delete spam emails | | | | |
| Find stuff using a search engine such as Google | | | | |
| Watch a video on YouTube or iPlayer | | | | |
| Fill out an application form or buy something online | | | | |
| Use a mobile app | | | | |
| Evaluate whether a website is safe/can be trusted | | | | |
How this helped
This helped us recruit research participants who had exactly the level of skill we were looking for. It removed the ambiguity of what being 'good at using the internet' means, and allowed potential participants a more objective way of rating themselves.
Who we now recruit
We now tend to recruit a mix of people: we request two people who score 15 and above, and just one person who scores 22 and above. This gives us a mix of internet ability and a range of views.
I expect this approach could be used by other services with a minimum of difficulty. It continues to work well for us. I'd be interested in hearing your thoughts - there's always space for improvement.
Keep in touch. Sign up to email updates from this blog. Follow Simon on Twitter.