I expect you've already heard of High Speed Two (HS2). It will be the UK's second high speed rail line, running North from London, initially to Birmingham. And the first main line railway to be built in the UK since 1899.

We're aiming to deliver new standards for rail travel, with the passenger at the centre. We'll do this through good service design based on extensive user research.
But that's not what we're going to talk about in this blog post. We want to talk about the user research we're doing internally, to develop the digital information services we need to deliver the railway.
Digital information services
Over the last year or so, while the Bill to give us permission to commence building the railway works its way through Parliament, we've been developing an organisation that's capable of delivery, and ready to start construction.
Digital information services are critical capabilities for HS2, enabling and supporting everything we do.
Designing the railway, managing the programme, collaborating across a massive supply chain, and enabling savings through use of Building Information Modelling (BIM), are just a few examples.
Not to mention running the business and providing the data analysis needed to understand what's going on.
The Information and Technology group in HS2, led by our CIO James Findlay, is responsible for delivering these digital information services across the organisation.
Information service design
To put us in the best position to do this, we've been working with our partner, Rainmaker Solutions, to move to a service design approach for all of our digital information services.
One challenge was that rapid growth meant we didn't have a clear picture of our users and their needs: the people across HS2 busily designing, managing, consulting, or otherwise supporting the development of the railway.
So we commissioned a 10 week user research project to give us a broad and shallow, big picture understanding of HS2 staff and their needs – described through a set of user personas.
This broad understanding of our users would help us make more informed decisions, set strategy for our services and set the scene for more detailed, continuous user research across our delivery portfolios further down the line.
But we're new to user research, so this was also an opportunity to experiment with a new way of understanding ourselves, to try out a range of techniques to see how they work, and to give our people exposure and experience of doing real user research. We also wanted to make proper user research stick in future so we wanted a way to capture the experience to guide further user research in HS2.
We therefore asked Rainmaker not just to help us deliver a research project but also to equip us for the future.
We achieved all this and more – which we'll explain later. First though, what did we actually do?
User research approach
The style of research we used in this instance is called 'design research'.
It's highly visual to increase engagement. It's open-style to capture the unexpected. And it communicates narratives from users to build empathy in the decision makers.
The result is an engaging research process that fosters a deeper understanding between technology users and the strategic decision makers who decide what technology shall be procured.
These are some of the techniques we used:
Popup mini-interviews
Researchers simply turned up at each of the four HS2 offices armed with bunting, snacks and questions to begin building a high level picture of HS2's user base.
They asked users about their roles and asked them questions such as "What's the one thing you would change about HS2?", "What takes too long to do that should be quick?" and "How could HS2 be improved through technology?".
Through this format, we managed to speak with over 50 people across all sites, for between 10-30 mins each, within the first two weeks of the project.
Tool-based interviews
The broad questions asked in the initial mini-interviews were very much the minimum viable product stage of the interview process – we just wanted to get talking to real users as soon as we could.
Once we were engaging with users and understanding more about the organisation, we were in a good place to iterate our process, and decide the things that we wanted to learn more about.
Rather than coming up with a list of questions, we found out about how HS2 staff work by asking them to talk through their typical working week and designed a set of visual A3 paper tools to facilitate this.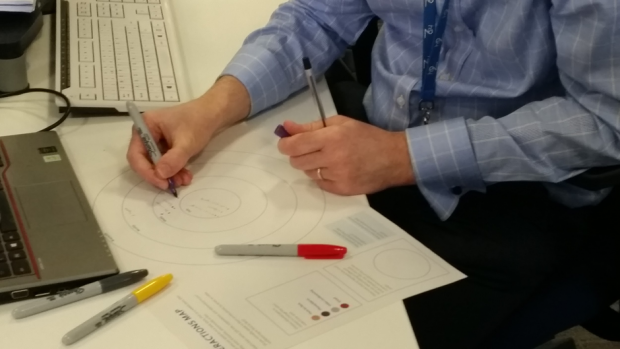 The style of these interviews is intentionally kept loose and informal. This avoids closed and leading questions, and allows the participants to communicate what's important to them using interactive tools. It makes the interview feel less like … an interview.
Cultural Probes
We developed 'cultural probe' research kits for participants to log all their activities over the course of a week, focussing on the technology they used.
The kits included mini exercises to do each day. On one day, the participants were tasked with taking one photo each hour to visually encapsulate the kind of work they are doing. These photos proved invaluable to our project team once we started forming User Personas and helped bring our persona groups to life.
Making a toolkit
As well as doing the research, we wanted to make the new approach stick. And we wanted to share what we'd learned.
So we turned our materials into a toolkit, with detailed information on all of the research techniques, and published it on Github.
We hope it will be useful for future projects, in HS2 or potentially anywhere.
So what did we achieve?
We have the insight into our users that we wanted.
We have a carefully crafted set of user personas that will help shape the design and delivery of digital information services in HS2. And drive our approach, thinking and future engagement.
We also now have a better understanding of peoples' pain points, their needs and their ideas to make things better. This material will form the basis for more detailed user research and more service-specific user personas as we apply it in emerging delivery projects.
We have the toolkit, and some experience of how to do user research in HS2. Our people have gained from the experience. We hear the words 'user' and 'research' far more now, and there's a clearer understanding of a user-centred, needs-based approach.
But the delight for us was the breadth of insight we've gained into the people who work in HS2 – not only what they do but how they feel.
We have something that's of far more use than just informing information service delivery.
It's the first time the organisation has understood itself from the perspective of the people who work in it, and will help inform a whole range of other work to develop the organisation in terms of capabilities, culture and ways of working.
And all this was presented in a very visual way – the end report isn't a report: it's an exhibition wall.
This has been far more engaging for a wide range of stakeholders as we explain the research to those leading wider change across HS2. I think they quite like the change from being sent a report to read!

So altogether worthwhile then. We can't wait to do more!
And this is now part of our standard approach to helping HS2 to be ready to start constructing the railway, assuming we get permission, in 2017.
Notes
1. For the train geeks. The last main line to open – in 1899 – was the Great Central Main Line linking Sheffield with London Marylebone. It was built as a high-speed railway with a larger gauge to accommodate continental size trains. Beeching closed it in the 1960s. HS2 will re-use 12 miles of its track bed.
2. Building Information Modelling (BIM) is a collaborative way of working based on data sharing – of design, schedule, cost, risk etc. – essentially to provide a digital representation of a construction programme that can provide efficiencies and insight through data analysis and visualisation.
Keep in touch. Sign up to email updates from this blog. Follow Jeremy, Tom, and Lior on Twitter.
All images by the authors.