Week-in and week-out user researchers communicate findings to teams and stakeholders. This is our stock-in-trade and we feel confident about it. But managing research over many months, or between teams rarely gets our focus.
In April's cross government meetup, four researchers shared their tried and tested tools to take research beyond the sprint.
Many thanks to DVLA Swansea for hosting the meetup.
The user needs spreadsheet
Dave Ellender, from Highways England showed us his team's straight-forward approach to collating user needs in a spreadsheet. One row per need, a reference to the research for each need, a reference to either the backlog or the developed product, and a rating for frequency seen in research.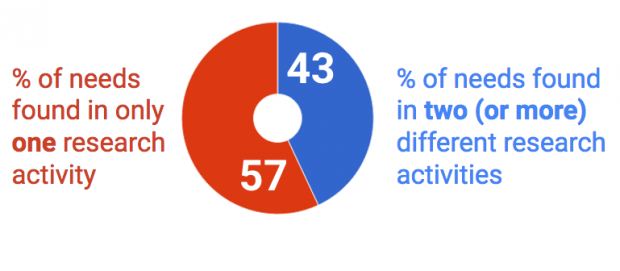 The team use the simple frequency rating to help them prioritise among all the needs they see, while not duplicating, or forgetting about less important needs. It also allows the team to quickly see needs that resurface after they thought they had met them.
Research admin 101
To easily dip back into your findings, or quickly summarise many months of work is tough. John Waterworth took us back to basics showing how good, simple admin practices enable longer-term understanding.
First, keep all the research materials and data for each round of research in a clear folder structure, with consistent numbering and naming of rounds and participants.
Second, make simple findings decks and keep them with your other research materials and data. You can use them to get a quick overview of findings over time, and use them as a source for larger summaries of your research.
Finally, take every opportunity to share your findings with simple, easily shareable materials like blog posts, comics and visuals like journey maps. If you get this right, your research findings can travel throughout your organisation.
Living documentation
Vicky Teinaki from HMRC talked about the 'living document' she creates and uses to manage research in the long term. The living document outlines findings, lessons learned and is constantly shared and updated.
Vicky explained that the agile manifesto's focus on 'working software over detailed documentation' did not mean 'no documentation'. As teams change, information can get lost, and next steps buried in the backlog. A living document can provide continuity.
The content of the living document changes based on the service's stage of development. In Discovery, it provides a list of needs list. In Alpha and beta, in contains rolling research findings. But it always contains link to other documents, videos and project management tools.
The team can use the document for decision making and prioritisation, not just as an archive. And the document can remind the team, and other stakeholders, what's been done.
Vicky currently uses Google Slides for her living documents, particularly because of it's support for collaboration. But it does mean she needs to teach people in her team how to use Google Drive and Google Slides.
Project Atlas
Tara Land introduced Project Atlas, a GDS project to automate and display online, mapped user needs and journeys.
The tool presents stable user needs, drawn from the lived experience, in a clear and accessible way, based on Indy Young's mental models. It's a nested framework allowing you to drill down through life stages and life events.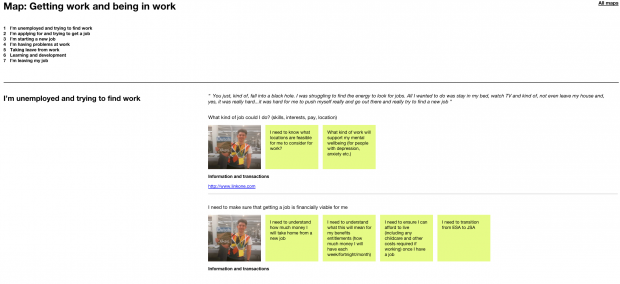 It allows visualisation of user needs and existing interactions with government, something ministers like a lot. And it helps teams focus on users needs, rather than just product and technology.
Tara is keen to get feedback on how government might use this to build better services based on a deep understanding of users.
Join us at future meetings
If you'd like to come to a future meetup, the next two are:
If you have work you'd like to share at one of the meetups, please contact John Waterworth at john.waterworth@digital.cabinet-office.gov.uk.
These meetups are for user researchers working in government, so you'll need a gov.uk or similar email address to book a ticket.
Keep in touch. Sign up to email updates from this blog. Follow Jay on Twitter.
All images by the author and speakers.