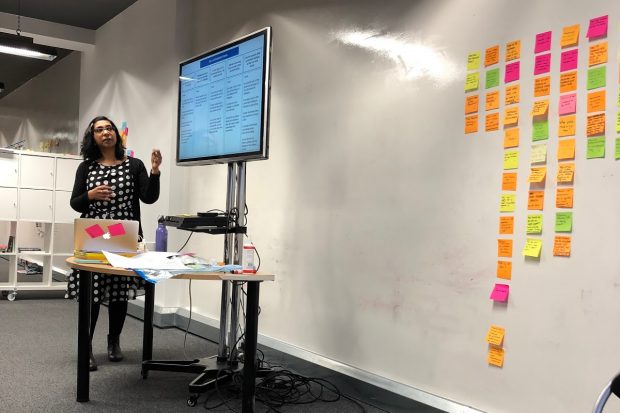 As the training lead for user research in the User Centred Design (UCD) team, I wanted to share how we took a 'users first' approach to iterating our training offering and in the process developed some new courses.
Historically, GDS user research learning activities ranged from community-led training and informal 'lunch and learn' sessions to formal classroom-based courses delivered through the GDS Academy.
One course in particular that has stood the test of time is the 2-day Introduction to User Research for Government Services course, which was, and still is, one of our most valued and oversubscribed courses. Created in 2016, with several iterations along the way, this course is delivered on a monthly basis and has been attended by over 1,500 new and future user researchers from across government.
Being bold
In 2018 we began to see a significant change in course attendees, with fewer user researchers and more attendees from non-user research backgrounds. Although it was encouraging to see such a broad range of people expressing an interest in learning about user research, it quickly became apparent that the course could not meet their collective needs.
In August 2018 we took the decision to pause this course so that we could conduct a user research discovery to help figure out who our new users were and what they were hoping to learn from our entry-level user research training course.
It was a daunting prospect to suspend such a popular course, but it was important to take a step back, review our offering and determine whether it was the right training proposition.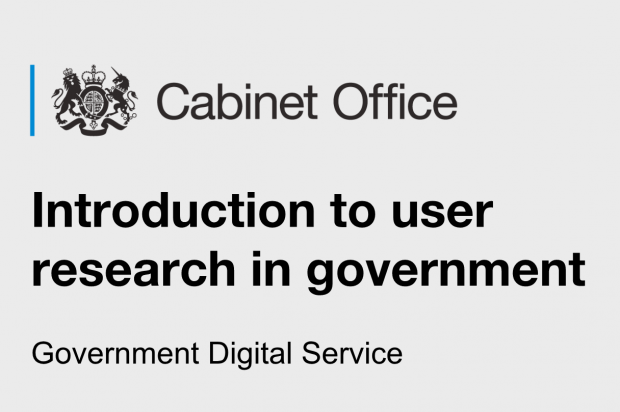 Taking a user research approach to the user research training
We took a mixed methods approach to the research and tapped into a range of different data sources to help us gain a holistic view of our training offering.
First, we reviewed all the pre- and post-training course feedback we had compiled over the previous year and cross-referenced it with the questions attendees asked in the training sessions. We followed this up with 12 in-depth interviews with past attendees who came from different government departments and had varying roles, skills and work experiences.
Next, we reviewed all the content from other user research training provided by GDS, including materials from the GDS Academy courses and our internal 'lunch and learn' sessions. This enabled us to see the breadth of information available and highlight any duplication in content.
What we learnt
Finally, we had evidence that validated our original hypothesis – that we were catering to a very broad audience and struggling to meet all their research training needs. We needed to make a decision about who the training was intended for.
We also learnt several other things. For example, that the time between signing up and attending the course could take months, making a basic course somewhat redundant if in the meantime the trainee had gained experience from doing the job. We also learned that some of our content was outdated and duplicated in other courses, and therefore lost its impact for those who had come across the examples and case studies before.
The course was also not practical enough for those about to start doing a research role, and it was only partially relevant for practitioners who were new to government.
User groups and user needs
Armed with these insights, we were able to identify our user groups and better articulate their needs. This ultimately helped us to decide who our training offering should be for. We identified 4 core user groups and some high-level needs for them:
User group 1
User type: I'm completely new to government and new to research.
User need: I need to get up and running quickly, on everything.
User group 2
User type: I'm already in government but I am changing my career to become a user researcher.
User need: I need to learn the basics first and then develop the skills while I do the job.
User group 3
User type: I am an experienced user researcher but new to working in government.
User need: I need to understand how researchers work in government as opposed elsewhere.
User group 4
User type: I'm not a practitioner but I want to understand the value of user research and how it fits into product development.
User need: I need to understand the value of user research, user-centred design and the role user researchers play.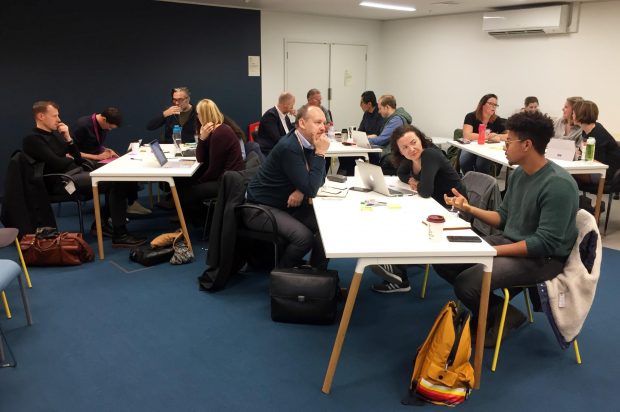 Redesigning and piloting a new 2-day course
With a better understanding of the user groups and more focused learning objectives, we were able to prioritise the needs and significantly redesign the 2-day course, reusing some existing content but also creating new exercises to make it more practical and engaging.
We restructured the course to follow the research process from beginning to end, starting with planning, recruitment, and selecting the appropriate methodology, to running analysis sessions and learning how to effectively communicate the research findings.
Since piloting in December 2018 we have trained over 100 people in London and Leeds. Based on the feedback, we feel confident that we have created something that meets the needs of those who are new to user research or about to embark on a new user research role in government.
Creating a sustainable framework for masterclasses
As a side benefit, the discovery also inspired us to address the unmet needs of more experienced practitioners. We used evidence gathered through the research to create a list of high-level topics from which we intend to develop advanced level training courses.
So far we have created and piloted 2 new masterclasses – an introduction to using quantitative data in user research and a masterclass on research ethics and consent. We have several more in the pipeline, including one on designing surveys. The masterclasses have been positively received and offer the user research community and course creators a valuable and unique learning experience.
Exciting times ahead
The foundations for change have been laid, the shape of the training team is changing and the future is looking bright in terms of developing a different training programme that can help to raise capability in government.
As we continue to develop more masterclasses and identify alternative ways to deliver core content, we'll also review our ticketing and selection process, ensuring that people get on to the right training for their needs.
Read about the GDS User Centred Design training and events. Find out more about the GDS Academy.