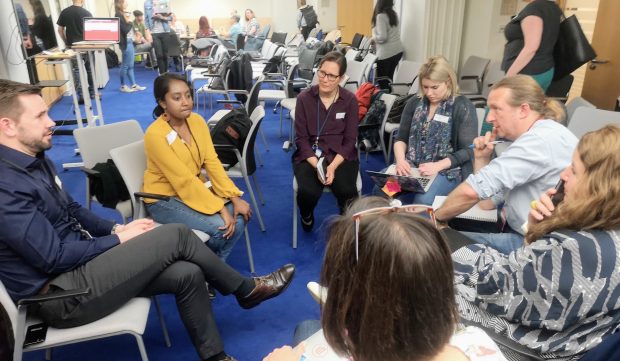 In Spring 2019, we decided to kick off a cross-government user research ethics network by running a meetup in London.
Why we need a cross-gov ethics network
As user researchers working in government, we need to make sure our research is ethical.  Whether we're securing voluntary informed consent, researching with vulnerable participants, or working in potentially dangerous environments, we often find ourselves with legal and ethical issues to consider.  
Researchers across government already do a lot of good work to maintain high ethical standards. All government researchers should be using consent forms and information sheets, most teams follow strict policies around data handling, and some departments have clearly defined governance structures, such as a research ethics board. 
Building on this strong foundation, we felt that there was more we could do to ensure that we work to the highest possible standards. While each department faces distinct challenges, we believe that we have enough in common to make collaboration around ethical issues useful.
We've explored these issues at specific cross-government user research meet ups in the past (on ethics or on specific issues such as participant and researcher safety) but we've lacked an active network to collaborate on an ongoing basis.
Finding out what teams are doing across government
We started the London meetup with 3 overarching talks covering the history of user research ethics, how user researchers can be trained in ethics and how departments can introduce ethics governance. It's important to understand the roots of user research ethics in the pivotal experiments and declarations of 20th-century medical research. These are responsible for the underlying principles we follow today: respect participants, do no harm, and weigh up the risk and benefit of any research. 
We then covered some of the most recent efforts to improve ethical user research practice in government. We heard about the new GDS Academy Masterclass on user research ethics which offers an overview of consent and data protection, and a workshop designed to develop ethical judgement through case studies. We then heard about how the Home Office deliverers ethics governance through a central ethics board and a formal research proposal submission and review process.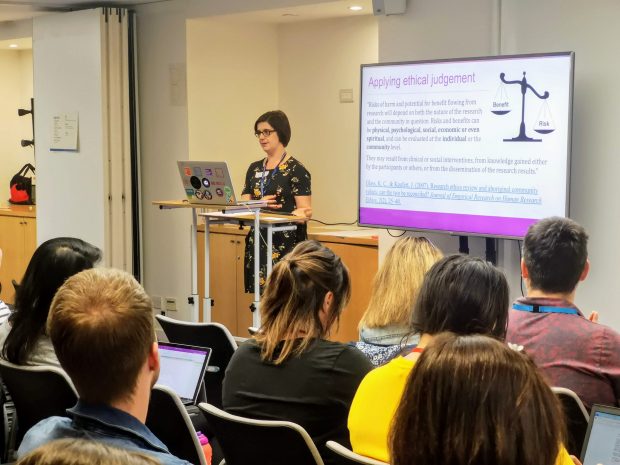 Next, we explored a range of issues facing different departments in a series of lightning talks. We heard about how researchers at the Department for Work and Pensions have to be highly sensitive to the vulnerability of their participants, many of whom are going through a difficult time in their lives. 
At the Government Digital Service, research with internal participants has to be managed carefully because participants and researchers often have existing working relationships. 
As a regulator, the Care Quality Commission can't provide incentives to users from the organisations it regulates, so researchers have to find other ways of encouraging participation, and these sometimes come with their own ethical issues. 
Researchers on the Home Office Child Sexual Exploitation team are at risk of exposure to distressing material. To mitigate this risk, the team has hired a psychologist to check that researchers are psychologically suitable for the work before they can join the project.
Identifying the issues our community faces
In the afternoon, we ran an unconference to identify the ethical issues we face as a community.  
Several sessions focused on privacy and data handling: how do we make consent forms compliant with the General Data Protection Regulation? What should we use as our legal basis for data processing? How far should we go when anonymising research data so it can be shared?  
Other groups looked at consent, asking whether consent can be given freely when research is integrated into the service, for example, recruitment through a mandatory action in a user's Universal Credit journal. We also discussed how to manage incentives with participants whose financial situation means that consent may not be truly voluntary. 
The limits of confidentiality was another key topic. We have an obligation under the Civil Service Code to report criminal activity. And yet, many feel that this conflicts with our ethical duty to 'do no harm' to our participants. What are the official channels we need to go through to get a clear line on this?  What should we do in ambiguous cases, like when a participant merely implies that they are involved in criminal activity?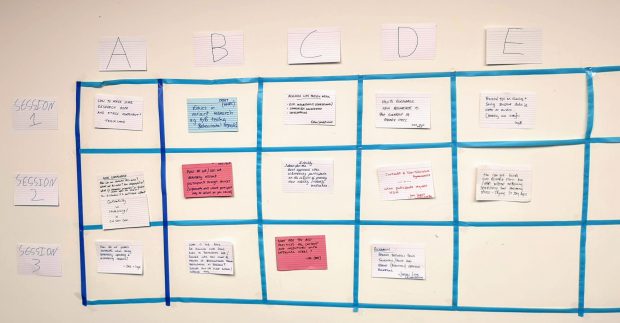 We talked a lot about how to embed ethics into our organisations. Some user researchers are already trained in ethics, and there was a feeling that this should be a part of every researcher's departmental induction. We talked about how research ethics shouldn't be a top-down affair, but should be community-led to foster a shared understanding. There was also a recognition that any governance would need to be compatible with our agile ways of working, so any ethics processes need to be lightweight and have short turn-around times.
The most popular sessions were focused on participant and researcher wellbeing. We talked about all the different kinds of harm we might unintentionally inflict on participants, and the steps we can take to mitigate these harms. We also discussed the approaches user researchers can use to look after their own wellbeing, such as peer-support groups, strategies for dealing with difficult research sessions 'in the moment', and having the confidence to opt-out of research that you think will cause you distress. 
What's next?
HMRC ran a second meet-up in September 2019 with a focus on participant and researcher wellbeing. Look out for a write up of that event soon. We hope that the network we're establishing will continue to thrive through a series of quarterly meetups and small but active working groups focusing on specific streams of work.
Within government, we're conscious that there are many other professionals collecting or processing personal data to develop knowledge about our users. We think that there's a lot we could learn by working with social researchers, performance analysts, data scientists, and others. Beyond government, there are user researchers in the private and third sector, as well as academic researchers. Once we've made progress on developing and sharing best practice in government user research, we'd like to engage with these communities to maintain the highest standards when developing insights about people who use government services.
You can also see a full list of topics discussed on our Trello Board.
Join #user-research-ethics channel on the cross-government Slack.
Join #user-research-ethics on the Cross Government Digital Slack to be alerted to future events and to discuss anything relating to ethics
Guidance on research ethics is published by organisations such as the Market Research Society and the British Psychological Society.
Event speakers:
Lorna Wall

(Home Office)

– History of Research Ethics

Mansoor Mir

(Home Office)

– Cross-Government Ethics Training

Liam O'Brien

(Home Office)

– Ethics Governance the Home Office

Nick F

orreste

r (Government Digital Service) – Research with internal participants

Tristian

Ostrowdki

(Home Office) – Researcher psychological safety

Jo O'Keefe (

Care Quality Commission

) – Alternatives to incentives

Sian

Knight

(DWP)

– Vulnerable

participants