If you have ever visited GDS, you would have seen 'User research is a team sport' posters everywhere. As Caroline Jarrett, Survey, form and UX expert, once said, user researchers' job is not to learn about users, but to help their teams learn about users. 
Involving people throughout the research process is one of the most effective ways to help our teams and organisation to understand our users and how to best design for them. And when we say 'user research is a team sport', the 'team' refers to anyone whose work and decision will – directly or indirectly – influence the product or service development and priorities.
Having said that, making user research a team sport doesn't simply mean we invite people to research activities. We also spend time to help them understand what each of the research activities means, what is expected of them and what value they can bring into the process. We've also found that by showing people what good research looks like, we can get constructive feedback from our teams and iterate on our approach. 
Training can help us all to play the 'team sport' well: it enables research to be owned by the teams, not only in the head of the researcher.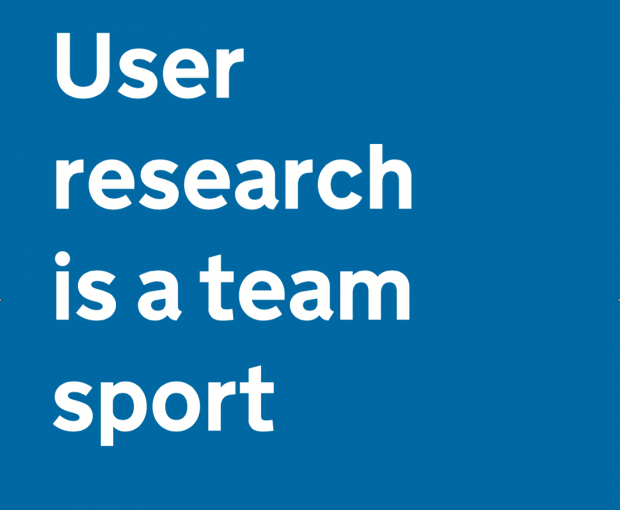 How we run our training sessions 
Our training sessions cover: 
what 'user research is a team sport' means 

identifying research objectives and research questions

understanding the main cognitive biases and their effect on research 

how to be a research buddy (and contribute as an observer and during group analysis)

usability testing good practice

what we mean by user needs

when and how to ask questions as an observer in a session
Whenever possible, we make the training interactive by providing exercises, such as 'spot the need', 'do and don't do' and an analysis interpretation game.  
We run training either as lunchtime sessions, show and tells, or dedicated training sessions. The format we choose depends on the session's goal and the aims of the project the research is linked to. For example, if time is very limited, we may choose to run lunchtime sessions or show and tells as they're less time-consuming and allow us to reach a wide audience easily.. However, choosing these formats means that the training will need to be significantly shorter and it will be harder to make it interactive. Dedicated training sessions take longer, but they can be very effective as they allow you to tailor the training content based on the stage of the research process you're at.. For example, you can provide analysis training near the time of group analysis. This way people can practise what they learnt soon after the training session. Dedicated sessions can also be more interactive. 
Knowing what to expect of each other
The training helps user researchers, product managers, designers, delivery managers, developers and people from other disciplines to understand how to work better in a data-driven, user-centric team.
We have found that our teams want to be involved in the research process, but do not always know what they need to do and what is expected of them. The training gives them clarity and confidence in contributing to the research activities. This maximises the effectiveness of 'user research as a team sport' and results in a better shared understanding about users.   
Building trust by sharing knowledge 
User research is a specialist profession. There is a common misconception that user research is just going out and talking to people, and so anyone can do user research. The truth is, becoming a good user researcher is hard. There is a lot to learn and it takes plenty of practice. By providing training to the team, team members gain an appreciation of the intricacies, skills, rigour and time required to conduct quality research. This helps the team trust our research and value our specialties. 
When everyone is involved, we work faster and better 
Having delivered training to teams means we can make the best use of our time and effort by helping each other. For example, we often have help from the team to transcribe recordings and prepare for group analysis. When it comes to group analysis, instead of having a researcher to lead every single one of the group analysis sessions, we can have multiple groups to do the group analysis simultaneously before getting together to discuss learnings.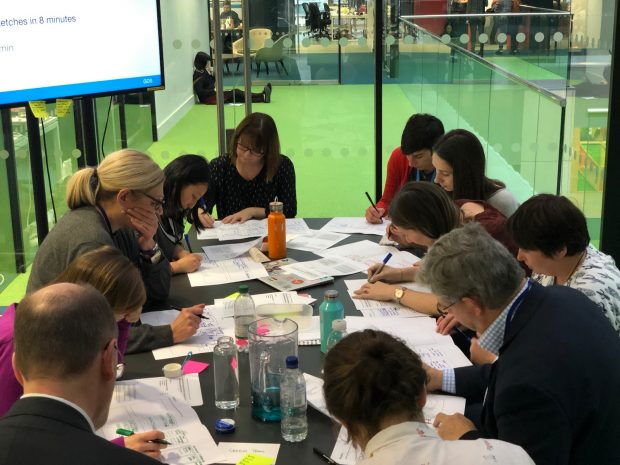 Training examples 
Below, you will find a few examples if you want to deliver some training yourself.
Training example 1: User research as a team sport
When we talk about user research as a team sport, we highlight the 'think, learn, make' model. We walk through the stages of user research, what the user researcher needs to do in these stages and what input is needed, including:
planning: defining the questions we want to be answered by research  

preparation: the user researcher assesses which method to use to best answer the questions, and then plans who to speak to and when to do the research 

observation: people observe research sessions and help out with note taking analysis: the researcher and the team do group analysis first before the researcher carries out a 'deep dive' and further synthesis

findings and actions: documenting and communicating research findings, and prioritising and working together to explore possible solutions as a team
Involving everyone in the user research process gives all team members a voice, producing better solutions and a stronger consensus. It creates a bunch of advocates who understand why a particular solution will or won't work. It also helps to mitigate researcher bias and stakeholder assumptions.
Training example 2: Learning about cognitive biases and their effect on research 
Before we start training on research activities, we go through a number of key cognitive biases that the team needs to be aware of when observing, understanding and interacting with users. These include: 
selective attention 

confirmation bias 

Daniel Kahneman's fast and slow thinking 

priming effects

social desirability 
While explaining these biases, we use psychology based exercises to make it engaging and easily relatable.
Training example 3: What does good observation and note taking look like? 
To make sure the training is a proactive learning experience, we give people time and space to explore their own thoughts before talking through what is considered to be good practice and why. For example, we can provide cards with note taking behaviours and examples, and ask people to group them into 'dos' and 'don'ts':
Do:
observe carefully with an open mind; acknowledge bias

note direct quotations and observations of behaviour

insert assumptions in brackets; avoid solutions

have someone to transcribe whenever possible 

code sticky notes with a participant ID
Don't:
note your understanding of the problems

note down your interpretation and solutions – the objective is to capture the facts according to the user

summarise what you observed 

capture quotations using third person pronouns 

talk about participants disrespectfully 
Share your ideas with us
We'd love to hear about the kind of activities you do with your teams to make user research a team sport. Share your ideas with us in the comments below.  
Thank you to Katie Taylor (who used to be a lead user research on GOV.UK) and other researchers' great work to advocate and make the training better. 
Related posts