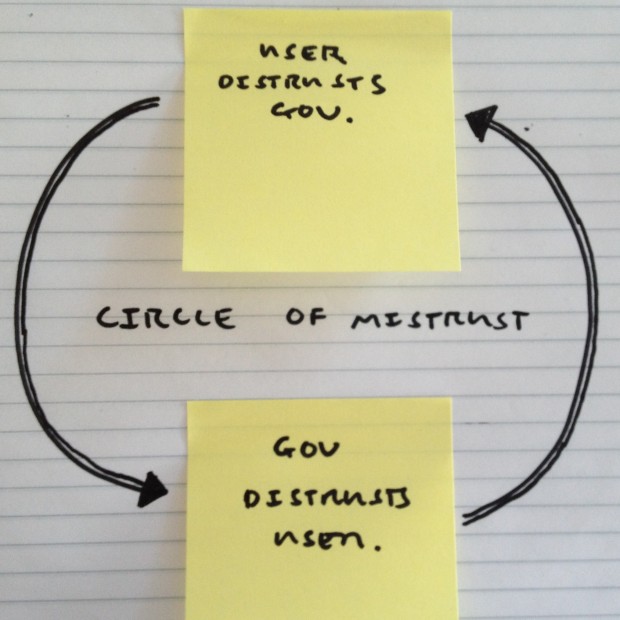 I'm working on Apply for Carer's Allowance, 1 of 25 exemplar services we're building as part of Digital Transformation.
A need for reassurance when using government services
Something we're seeing repeatedly in user research is a need for reassurance when using government services. Despite a lot of good work, this is especially the case when people are applying for benefits.
For example, we've met people too afraid to call a helpline in case they say something that could lose them money or delay payments. In my experience, these are people with nothing to hide. They see making an application as something you have to get 'right', believing they can't afford any mistakes.
Some people are too afraid to use a digital by default service by themselves
These are people who might be technically able or confident enough to use a digital service, but the anxiety of these types of transactions means they need reassurance and require additional support.
The cost of this support is often hidden because anxious users will approach other people or organisations to help them through the process of form completion.
I describe this problem as the circle of mistrust.
A scenario that builds mistrust
If a user is guarded with the information they give, a government transaction might add more questions to try to capture more accurate information. Users are then suspicious of the motivation behind the questions they're being asked. User distrusts government. Government distrusts user.
If we can find ways to trust users more, they'll have more opportunity to grow in confidence and use digital services independently - all part of building better services.
Here are some of the things we're doing to build trust
Saying "it's okay"
Mistrust is often caused by the way we ask questions. We've seen that if someone calls for support during a transaction they can be quickly reassured by the person on the helpline.
This isn't always consistent with how we ask questions in our digital services - sometimes people just need to hear "It's okay. Give as much information as you can". This is also why all content should be written in plain English.
Explaining why we need to know
Explaining 'why we need to know' is really important. The most common question we hear from users is, "why do they need to know that?", usually followed by, "I'd have to speak to someone" or even, "I'd give up".
The thing Carer's Allowance users worry about most is how it might affect other benefits they already get, or even the benefits of their partner or the person they care for. This really matters when their household could lose money.
We believe this is why we see lots of people incrementally dropping out during application - you can see this pattern on the Carer's Allowance performance platform: users at each step (Ed: Sorry, link no longer exists). We're trying to address this is by being much more open about why we're asking.
A new help guide has been written to explain why we need to know. For example, we now explain why we need to know about 'other benefits'.

4-5% of users were dropping out of the application when they got to this question. Based on research, we think users were worried about what would happen to 'other' benefits' if they answered, "Yes".
Think about how frustrating this must be - spending 20-30 minutes completing the application, then trying to determine the impact of this question only to feel you have no other option but to give up.
Avoiding ambiguity
We've found that 'optional' questions confuse most users. They make people suspicious: "Maybe they're trying to see if I choose to answer this or not?" Most people think it will delay their application if they they don't provide 'optional' information.
To make a decision on an application we either need information or we don't. So to build trust, make things mandatory or don't ask at all.
Designing a declaration based on trust
Research shows that people drop out around the declaration page. Again, this is when they've already put in the time and effort to complete the entire application - we think they might be dropping out because of mistrust.
The user need for a declaration is to declare that:
I've checked and the information I've provided is correct.
I'll tell you straight away if any of this information changes.
The live declaration page for Carer's Allowance (below) is more complex and can be intimidating. People we've tested the service with describe this page as 'legal' and 'scary'.
Repeating the same information adds to mistrust. In this example, in bullet point 2, "I must report all changes in my circumstances" and bullet point 4, "or fail to report changes in my circumstances".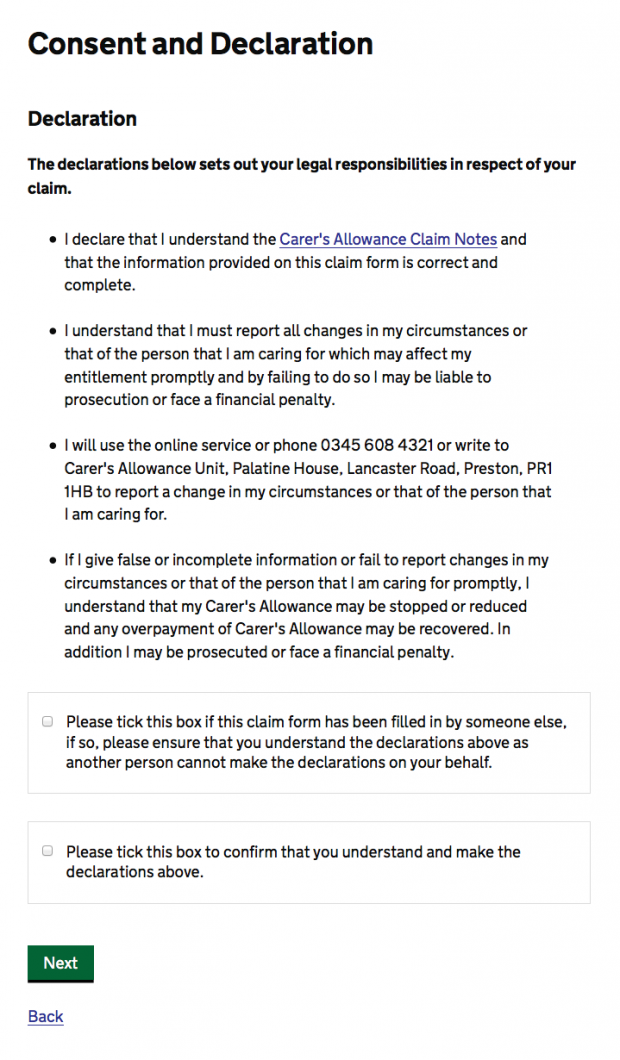 The Carer's Allowance team have now started testing a new version of the declaration, which we've designed to help build trust.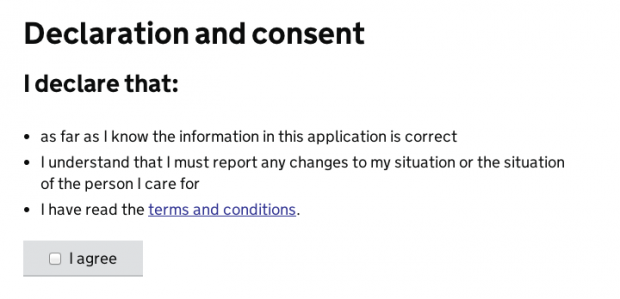 If people don't drop out of a digital transaction they won't need support from elsewhere or default back to a more costly paper form. Trusting users might mean more people will report changes in the future or use more government services independently.
This is what it means when we talk about: Trust. Users. Delivery.
Keep in touch. Sign up to email updates from this blog. Follow Ben on Twitter.