Cartoons are a great way to help your colleagues identify with your users, and you don't have to be an artist to make them work.
Here's an example of one of my cartoons.
Hannah's journey: if we DON'T get it right

Hannah's journey: how it SHOULD be!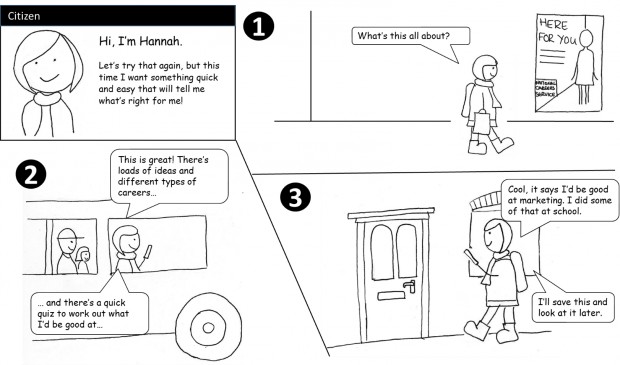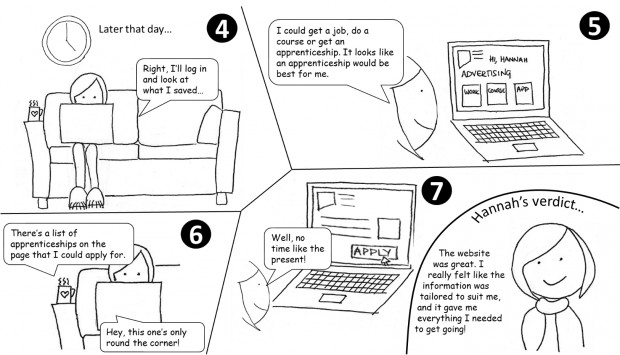 Like many user researchers, I've spent years experimenting with different ways of helping stakeholders engage with what I do. My user journeys generally take the form of process maps, but no matter how visual I tried to make them, I still wasn't getting the point across.
Cartoons help people identify with users
I wanted to get my stakeholders to start thinking about the real person using our services. That might be a 17-year old browsing our site on her phone while on the bus, or a small business owner trying to find out about apprenticeships in a half hour gap between meetings.
A few months ago, as part of some strategy planning at the Skills Funding Agency, I started sketching cartoons. I found that cartoons illustrated the user journeys in a more personal way, and really helped people identify with our users.
You don't need to draw complicated cartoons to get the point across
Stick men are fine as long as they have something, like a hairstyle or item of clothing, to identify them with your user persona. The important thing is to get your audience thinking in the right way.
Cartoons are a conversation starter
Cartoons work best when they're used to start a conversation, or to illustrate a high level point rather than to capture a detailed user journey.
My cartoons aren't in the league of Bonny Colville-Hyde. Hopefully, though, they show that anyone can create something simple to get people thinking on a user level, rather than a process or policy level.
Learn more about using cartoons to communicate research
Bonny's coming to our next cross-government user research meetup to show us how she makes and uses cartoons to communicate research. If you're doing research in government and would like to come along, email Leisa and we'll add you to our email group.
Also, if you've used cartoons (or other creative techniques) in communicating research, we'd love to hear from you. Drop a line in comments.
Keep in touch. Sign up to email updates from this blog.