At the end I last year I told you about the discovery I've been doing with user researchers at GDS, and with the teams they work in.
During my discovery, I repeatedly encountered examples where user research uncovered significant problems that reduced the take up of a service.

Problems drive needs
As a user researcher, this came as no surprise to me. This is the real power of user research. Understanding not just what users do, but why they do it.
And this is why I love Tomer Sharon's definition of user needs:
A need is a necessity arising from a problem
Tomer's definition makes it really clear that articulating user needs is not enough. To meet user needs we must understand the problems that drive them.
Connecting symptoms to causes
There can be any number of signals that make it very clear something is wrong – contact volumes, call centre logs, and analytics. These are symptoms of service failure, and it's right that we listen and respond to them.
But to the fix our service we must understand why something is broken. To look beyond the symptoms and locate the cause.
Understanding the problem, and its cause, gives us a solid foundation for designing and building the right solution. It allows us to prioritise and focus our efforts in the right places, and to create meaningful performance measures.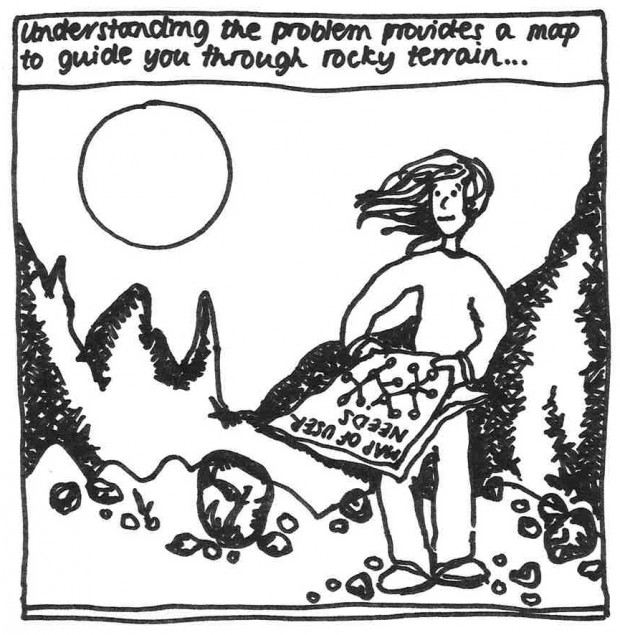 Contextual research
This is why services must start broad contextual user research in Discovery. Research that sets aside assumptions and isn't narrowly constrained to the working of the service. Research that looks deeply at users and their experience.
Contextual research can take many forms – visits to people's homes and places of work, depth interviews in research labs, experience mapping exercises, etc. But the intention here is more important than the method.
It's about our willingness to learn about and from our users. To walk in their shoes and see the world from their eyes.
So we can make things better.
All artwork by the author, Naintara Land. Keep in touch. Sign up to email updates from this blog.