On GOV.UK we have undertaken a huge project to build a topic taxonomy. You can read about why we are doing this, and our user research strategy for the first topic we tackled, 'Education'.
The 'Education' topic gave us lots of ideas for how to do future topics. So last year, we started testing out some of these ideas, to see whether they would help us get to a draft taxonomy faster.
To do this, we used card sorting, a well-used method in user research and information architecture.
Why we did a card sort
In card sorting, we give participants a set of terms on cards and ask them to sort these cards into categories that make sense to them.
This can help the team understand users' mental models. And make sure we bring user needs into the way we organise content.
We did a card sort on the 'Education' topic and focused it on a narrow set of concepts. The 'Education' card sort:
only looked at a very narrow subsection of education content, related to early years
used cards showing the title of an existing piece of GOV.UK content, rather than a generic concept
was not an open card sort because participants were given predefined categories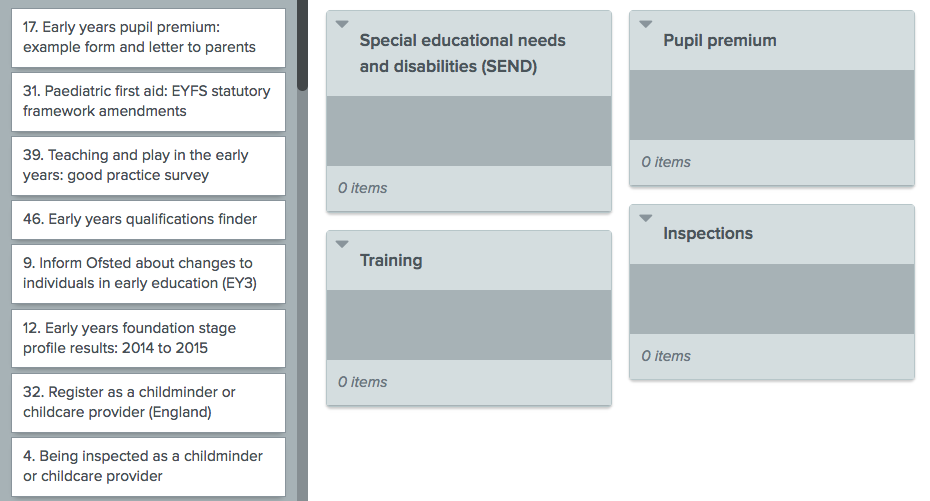 Some things didn't work out how we had expected. We found that:
using titles on the cards made it hard for participants to really understand what the card was about
tackling a narrow subsection of the content wasn't helpful at the early stage of taxonomy creation – it's better to card sort with a broad range of concepts from the start, to prevent unnecessary rework later in the process
we lost the opportunity to learn more about users' language by having predefined categories
This is why we changed our approach.
A proposed new approach
Following this, we proposed a new approach to card sorting. This would:
broaden the scope and include concepts from across the topic
use GOV.UK search terms as concepts for the cards, because they are simpler and closer to users' language
make it an open card sort in which users could make categories and name them using their own language
We've already trialled this new open card sort approach with different topics.
Getting to the right approach
Trying these different methods has helped us figure out our 'sweet spot' for card sorting to build taxonomy themes.
Should it use all of the content in a theme or a narrow subsection of the content?
The 'Education' card sort taught us that all of our research activities at the beginning of the taxonomy building process need to be holistic and consider the full breadth of content in the taxonomy.
However, our open card sort showed that using a broad set of concepts produces patterns that are too weak to influence the taxonomy creation phase.
Should it be open or closed?
A closed card sort doesn't make sense at the beginning of the taxonomy creation process because we don't have a good idea of categories to suggest to users.
However, an open card sort will produce weak patterns, given the breadth of categories that our taxonomy themes cover.
Should it be done early in taxonomy creation?
We now know that we can only get strong enough patterns with a narrow subset of concepts and a closed card sort. However, we need to be confident about how that narrow subset fits into the whole taxonomy and that our proposed categories are appropriate.
Getting to this level of confidence requires time to try out different structures and relationships between concepts, informed by insights from contextual research.
Next time
For future themes we will wait until we are further into the taxonomy process before we use card sorting to help us make decisions.
We will do a series of closed card sorts using categories that have been thought through in the context of the entire taxonomy. We will include concepts for which we have the least user research and knowledge.
As a result, the set of concepts will be narrower and produce stronger patterns that we can use to iterate the taxonomy.
By integrating this with planned research activities that include interviews and tree testing, we can strengthen our confidence that our final version of the taxonomy is truly user-centred.
How have you used card sorting?
We're creating guidance on card sorting for the Service Manual. It would be great to hear how you've used the method.
Follow Katie and Emma on Twitter and don't forget to sign up for email alerts.
Featured image captured from Optimal Sort