In The Old Man and the Sea, Ernest Hemingway tells this story.
One day, Santiago goes out to sea, much further than other fisherman go. He engages in a herculean struggle to catch an enormous marlin. He thrashes all day and all night. The fight nearly kills him. Eventually he catches the marlin, only to discover that it's too big. He can't lift it into his boat.

But he can't imagine not landing this fish. He has to show it to his friends while he tells them how he caught it. So he ties it to the outside of his boat and begins rowing back to shore.
Now there are sharks in the water. They begin attacking the marlin and eating it. Santiago tries to fight them off. But he's already exhausted by catching this fish and he's no match for them. By the time he gets back to shore, the sharks have eaten all the fish. All that's left is a bit of skeleton.
Santiago is scorned and ridiculed by the people on the shore. Why go through all that struggle and have nothing to show for it.
Wrestling with the big fish
Another author, Kurt Vonnegut, took up this story and offered a meaning for it.
Hemingway published his previous novel, Across the River and into the Trees, after a 10 year break. He had struggled to finish what he considered the great work of his life. The critics lambasted and ridiculed it.
So in Vonnegut's version, the old man was Hemingway struggling to finish his life's work. Going out on a mammoth task that nearly kills him. Catching a prize fish but having the critics tear apart his work.
This might sound odd to non-researchers, but in many large research projects we end up in the same situation. The research feels like an odyssey. Meeting so many new people. Learning so much about their attitudes, behaviours, and lives. Our heads swim with the richness of what we've learned and the possibilities of what could be done with all this new information.
So we create a 100 page slide deck filled with every detail of everything we've learned. When we present it, we're met with blank stares. And if we're lucky some questions.
We do this because we fall in love with our findings. And we lose perspective about them. We know all this stuff and we have to tell the world. But by trying to explain everything, we end up saying nothing. We have landed a fish that's too large to fit into our boat.
Serving the best cuts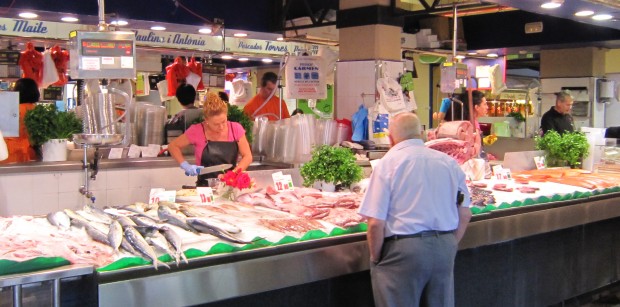 Our colleagues never need to know about everything we learn in our research. Never. We have to simplify our findings to deliver the most important insights in ways that will engage people.
The interesting thing about Vonnegut's take on the story is that he told Hemingway's story to a fisherman, who basically said – the guy's an idiot. Of course sharks are going to eat your fish if you strap it to your boat. What you have to do is choose the very best bits of the marlin, cut them out, and leave the rest for the sharks.
That way, you bring back a boat load of great fish, rather than leaving people scratching their heads and wondering what all that effort was for.
Keep in touch. Sign up to email updates from this blog. Follow Andrew on Twitter.
Feature image credit: John Waterworth, Attribution-NonCommercial-NoDerivs 2.0 Generic (CC BY-NC-ND 2.0)